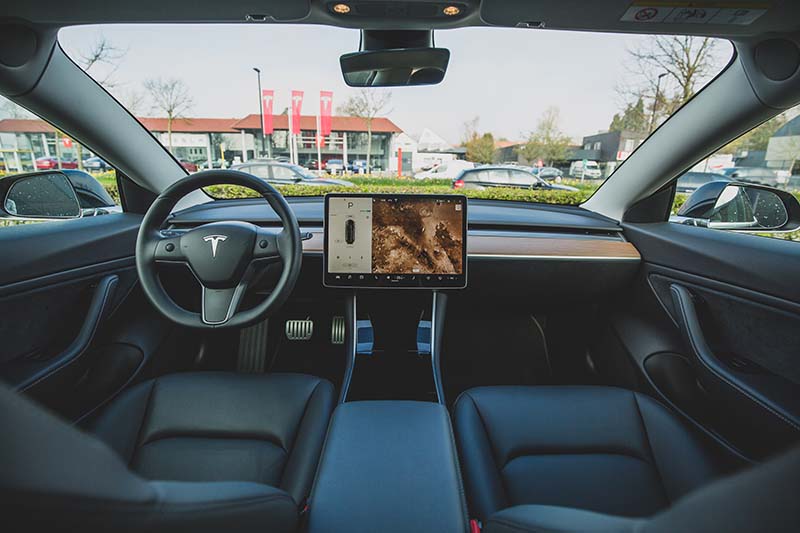 Rechargd.com is reader supported. We may collect a share of sales or other compensation from the links on this page. As an Amazon Associate, we earn from qualifying purchases.
Tesla's new Cybertruck is causing a stir with its futuristic design and innovative capabilities. But, does the Cybertruck have autopilot?
If you like your cars to turn heads like me, then the Tesla Cybertruck could be for you. Its futuristic design complements its wide range of innovative features. All four models have Tesla's Autopilot semi-autonomous driving technology as standard, with Full Self Driving (FSD) available for an extra fee. 
When Will The Cybertruck Be Available?
Tesla's Cybertruck is slated to start production in late 2022 after some delays. Designed to have the utility of a truck but with sports car performance, it is set to make a statement whatever the end result. It is now likely to only be available in 2023, although the date has yet to be announced. While it houses a range of features, its safety and driver-assistance features are likely to get people talking.
How Much Is The Cybertruck With Self-driving?
The Cybertruck comes with Autopilot semi-autonomous driving as standard. The Autopilot semi-autonomous driving suite unlocks access to features to drivers' aids such as Navigate on Autopilot and Auto Lane Change, Autopark, Summon self-parking, and Traffic and Stop Sign Control.
However, drivers still need to keep their hands on the steering wheel at all times and keep their full attention on driving the vehicle.
The Full Self-Driving option is currently priced at $12,000, although it is thought the Cybertruck will be eligible for the $199-per-month FSD subscription. The cost of the Full Self Driving Autopilot package was raised from $10,000 to $12,000 in January this year in the US.
Elon Musk has also stated that the cost of the FSD monthly subscription will also rise when the software gets closer to wide release. FSD is available on all new Teslas currently. 
What Is Tesla Autopilot?
Autopilot is a driver assistance system that aims to enhance safety by reducing your workload as a driver. Autopilot uses external cameras and vision processing, although the vehicles used to be equipped with a radar. Autopilot comes as standard on all new Teslas. For cars that were purchased without Autopilot, an Autopilot package can still be bought afterward.  
What Are The Features Of Tesla Autopilot?
So, what features does Autopilot have? Its traffic-aware cruise control ensures the speed of your car matches the surrounding traffic. It also has autosteer which helps with steering in a clearly marked lane, such as that of a highway.
Navigate guides you from on-ramp to off-ramp, suggests and makes lane changes, navigates highway interchanges, and helps with taking exists. It is designed to get you to your destination in the most efficient way. 
Besides these Autopilot features, Tesla cars also come with a range of safety features as standard for all cars made after September 2014. The features, which use the Autopilot hardware and software system, include automatic emergency braking, forward collision warning, side collision warning, blind-spot monitoring, lane departure avoidance, and emergency lane departure avoidance.
The safety features aim to assist drivers, but nonetheless, the responsibility lies with the driver to stay alert and have control of the car. 
What Are The Differences Between Tesla Autopilot and FSD?
Full self-driving extends the features of Autopilot, It offers Auto Lane Change, which enables Tesla cars to automatically change lanes when the feature is activated. FSD also includes an auto park, which can detect parallel parking spaces when driving under 15mph and perpendicular parking spaces when driving under 10mph.
Once started, Autopark will start moving the car into the parking space by controlling the car's speed, gear changes, and angle of steering. 
What Are The Features of Full Self-Driving?
Other features of FSD include Summon, which integrates with Homelink to open your garage door to get your car out of the garage. Smart Summon takes this further enabling your vehicle to drive to you or to a location you choose.
It maneuvers around and stops for objects, however, is only intended to be used in private parking lots and driveways. It is still important for the driver to be alert, watching for obstacles and potential dangers such as bicycles and children. 
Traffic Light and Stop Sign Control is currently a feature in beta, which aims to identify stop signs and traffic lights or road markings, automatically slowing down the vehicle to a stop upon approach.
Notifications will show on the touchscreen providing the reason for stopping and will provide an estimate of the distance until the car will stop. Tesla has stressed that this feature is still in Beta and may not stop at all traffic controls. 
Do All Cars Have Autopilot?
Autopilot is available on cars built after September 2014, although it is noted that the most recent vehicles have new hardware and more powerful processing. For instance, after mid-February 2022 all North American Tesla cars will use eight cameras and neural net processing, which aim to see the environment around the car more accurately to deliver the Autopilot features. The neural net processes these inputs in milliseconds aiming to make driving safer for the driver and others on the road. 
It is possible to get Autopilot if your vehicle has the necessary hardware but not the Autopilot software. Autopilot or FSD can be purchased through your Tesla Account and the necessary software will be added to the vehicle. 
How Do I Know If My Tesla Has Autopilot or Full Self-Driving?
Checking if your Tesla car has Full Self-Driving is simple. Just go to the Tesla app and click on the 'Upgrades' section. If you see that you can buy Full Self-Driving, then you do not already have it.
Or you can go to 'Additional Vehicle Information' by going to Control > Software > Additional Vehicle information.
If you do not have FSD then provided your vehicle has FSD computer 3.0 or above, and Basic Autopilot or Enhanced Autopilot, it is possible to subscribe to FSD via the Tesla app or your Tesla account.
You can see your Autopilot configuration in Additional Vehicle Information, as described above. If you don't already have the hardware, then this will need to be installed first and is not included in the price of the FSD subscription. 
What About Safety Concerns With Autopilot and FSD?
While driver assistance systems aim to improve driver safety and security, it has also received flak over safety concerns. Although Tesla makes drivers agree to keep their hands on the wheel and gives visual and audio warnings when the driver takes his hands off the wheel, there is a risk that once Autopilot or FSD is engaged that the driver will not maintain their attention on driving. 
FSD in particular has come under fire for safety concerns, most notably from the chair of the National Transportation Safety Board, Jennifer Homendy, who expressed concerns about the safety of Tesla's FSD in September last year. She believed the term full self-driving was misleading and irresponsible, calling for Tesla to address basic safety issues before expanding the FSD further. 
How Is Tesla Ensuring Safety With Their FSD program?
Tesla has continued to gradually roll out the beta of its FSD program taking into account safety concerns. In September last year, Tesla drivers were given access to FSD via a request button on the Tesla dashboard screen.
Prior to receiving access, though, Tesla determines the safety score of the driver using five criteria to estimate the likelihood their driving could result in a collision in the future. Drivers wanting to participate in the FSD beta testing need to have a score of at least 98.
The score is determined using data collected by sensors on the car, which calculates instances of forward-collision warnings per 1,000 miles, aggressive turning, hard braking, unsafe following, and forced Autopilot disengagement.
Autopilot disengagement occurs after giving three visual and audio warnings when it has recognized the driver's hands have been removed from the steering wheels and have become inattentive. The score that is deemed safe has now been announced. 
What Are Tesla's Plans For FSD?
Regardless of criticism, Tesla is forging ahead with plans to roll out full self-driving beta software to all its customers in North America who pay the $12,000 cost or opt for the monthly payment this year. According to Tesla, 60,000 of its customers who have paid for FSD have now received access to the FSD beta software following a successful safety scoring. 
Although Tesla's Full self-driving is not fully autonomous and requires the driver still to be paying attention, the cars are likely to be able to go from home to work without intervention.
However, it is likely as the technology is developed further that one day it will be fully autonomous when it has received regulatory approval after achieving sufficient reliability from billions of miles of driving.
How Good Is Tesla Full Self-Driving?
So, just how well does Tesla FSD do? Well, to say views are quite polarized is a bit of an understatement. While some are hailing FSD's features as innovative and intuitive, others are quite frankly scared.
In fairness, some of the 'tests' are with drivers pushing the system to the limit, but Tesla itself says that FSD is not fully automated and needs the driver's full attention at all times. 
For FSD beta, the new visualization on the display has been reported as particularly impressive, seeing how much data is being collected in real-time. Some drivers haven't had to intervene and the car has managed to navigate changing lanes, making turns, deciphering other traffic, and navigating roundabouts. 
What Are The Downsides of Tesla FSD?
Some drivers are reporting false forward-collision warnings with automatic emergency braking. In fact, Tesla recalled one FSD version within hours and had to release a new version the following day because of issues. While some were impressed by how quickly Tesla dealt with the situation, it also highlighted the potential problems FSD can bring. 
One of the challenges of FSD has been consistency, with drivers finding their FSD work fully one day but not the next. Some of the errors have been from attempting to steer around road closure signs or fixed objects like poles and rocks, or just trying to crash into them. Other things like braking unexpectedly or turn signals going on and off randomly have been reported. 
Why Are Social Cues So Challenging For Self-driving Cars?
One of the big challenges with FSD is picking up social cues such as another driver waving the Tesla car at a four-way stop, or recognizing and anticipating what a pedestrian will do next. Some drivers have reported having to take back control over the vehicle because of a potentially dangerous situation, but other times, it is just to avoid annoying other drivers. 
Recognizing social cues is not just limited to Tesla cars, but also in other vehicles with similar driver assistance like Mercedes-Benz, GM, and Ford. One of the challenges of autonomous vehicles is for the car to predict the environment including humans and recognize social cues.
How often does a driver signal with their hands to another driver to let them go first? Well, that can be tricky to translate into autonomous driving. Similarly, the 'Should a self-driving car kill the baby or the grandma?' dilemma continues to throw moral issues into the mix too. 
While driver assistance features in Autopilot and FSD aim to take some of the stress out of driving and increase safety on the roads, there are still some teething problems. Whether you are going for just Autopilot features or for Full Self-Driving, it is important to keep your hands on the wheel at all times and maintain your concentration on driving.
For the Cybertruck, Autopilot and FSD bring innovative new features to go with the futuristic design. It may be some time before autonomous technology is sufficiently reliable enough to be fully autonomous. In the meantime, though, we can get a glimpse of what the future may bring.