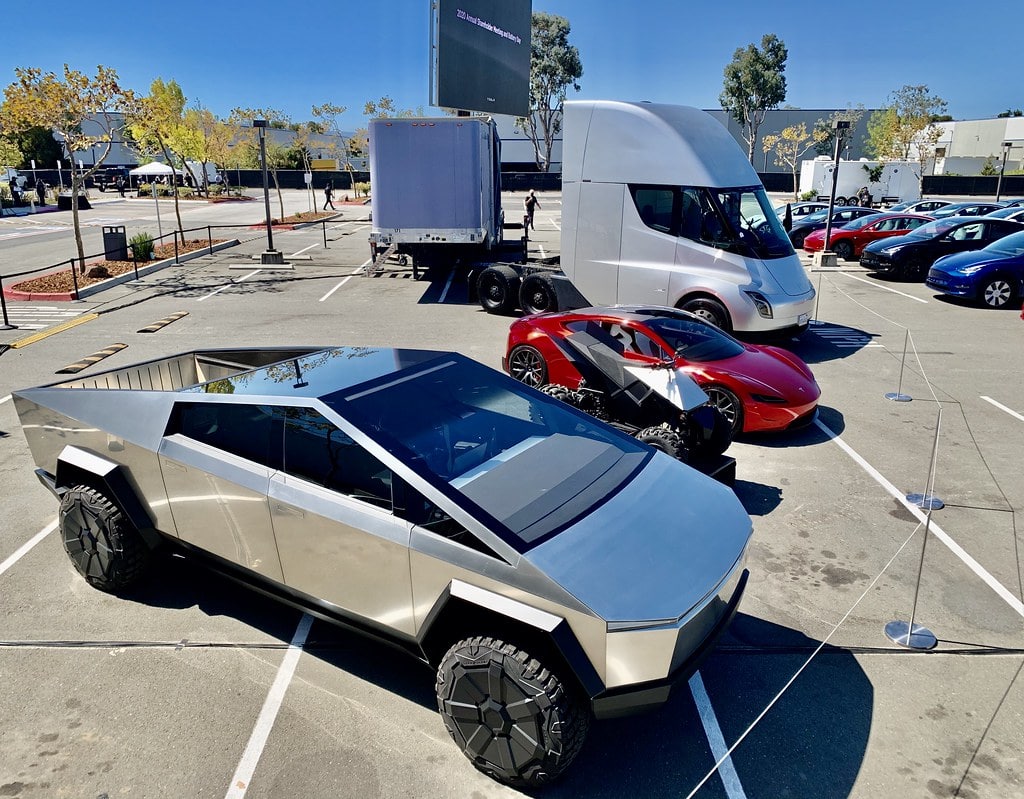 Photo by Dale Cruse licensed under CC BY 2.0. Rechargd.com is reader supported. We may collect a share of sales or other compensation from the links on this page. As an Amazon Associate, we earn from qualifying purchases.
With all hype surrounding the launch of the Cybertruck, and with Tesla's track record for manufacturing cars that reach a global audience, you would think that Europe would welcome this beast of a vehicle with open arms.
However, due to much stricter regulation, it doesn't seem that the Cybertruck will initially be legal in Europe. But, that's not to say the situation won't change in the future, and a lot of that has to do with the fact that in January of 2022, Tesla announced they are not releasing any new cars this year.
As a result, it means that production of the much-anticipated Cybertruck, which was scheduled to be built at the new Tesla factory in Austin, Texas, has now been delayed until sometime in 2023.
How Does Delaying The Cybertruck Help Make It Legal In Europe?
Well, just think about it for a minute; Musk never mentioned when in 2023, the Cybertruck would go into production, and as we all know, a week is a long time in politics, so just imagine how long 12-18 months could be? 
In that time, you would like to think that the engineers and boffins at Tesla would have enough time to make all of the demanded changes to the product design features and resolve any safety issues to ensure that the Cybertruck is, in fact, street legal here in Europe.
Why Is The Cybertruck Not Legal In Europe?
It appears there are several opinions on why the Cybertruck may not be legal here in Europe in its current format. So in this article, we're going to try to cover some of them so that you have a clearer understanding of why the Cybertruck may not, in its current format, be legal here in Europe.
One of which comes from the German company TUV (Technischer Uberwachungsverein), which is responsible for the internationally recognized seal of utmost quality and the mark that many companies strive to achieve. 
As far as TUV is concerned, the need for product certification is a fundamental methodology that helps ensure products, solutions, and services comply with the existing safety regulations and quality criteria that have been put in place to meet international standards. 
As a result, businesses need to verify their products are fit for use routinely. To achieve the relevant certification, a third-party accreditation organization normally undertakes this task. So when considering this, along with the current design and build structure, it's unlikely that Tesla would be able to sell the Cybertruck in Europe.
What Would Tesla Need To Change On The Cybertruck For Tuv To Be Happy?
Well, according to Stefan Tellar, an expert at SGS-TUV Saar GmbH. Tesla would have to make significant changes to the components and also to their design. 
They would need to include the introduction of side mirrors; cameras would also need to be added (in case they are not implemented).
Smaller wheels than those currently shown on the vehicle would need to be fitted, plus headlights and windscreen wipers should be integrated.
Would These Changes to the Cybertruck Be Enough?
Probably not because, even with these changes being made, it still might not be enough for the Cybertruck to be marketed here in Europe, and this is because the tests carried out in Europe are not intended for this type of vehicle. 
Here in Europe, traffic and safety regulations are considerably stricter than in the rest of the world, especially those in the United States. As a result, auto manufacturers must undertake far more vehicle tests and complete more paperwork than their counterparts in the U.S. 
Furthermore, in Europe, there are a number of different government bodies involved in the vehicle approval process and a host of autonomous brands and services, including the likes of TUV. As a result of these and more rigorous controls, several of the current features displayed on the Cybertruck would not meet the safety standards set in Europe. 
The first is the hard cold-rolled stainless steel that covers the entire Tesla Cybertruck body. European regulations insist on including a variety of elements designed to help protect pedestrians and provide passive safety. 
For example, the front of the vehicle must act as a crumple zone so as to absorb the impact of a collision and not be rigid, as is the case with the current Cybertruck configuration. 
Likewise, both the front bumper and the hood (bonnet in Europe). Need to be designed in such a way as to absorb the passive energy released in case of an accident with a pedestrian. But as the result of the current body design, it's doubtful that Cybertruck would suffer the slightest damage, which could be deadly for the pedestrian.
Other Reasons Why The Cybertruck May Not Be Street Legal In Europe
As we spoke of earlier, there seems to be a variety of opinions as to why the Cybertruck may not be considered to be street legal in Europe, and that has to do with its physical weight. 
As we know from previous experience, all Tesla's are notoriously heavy. For example, the Model S weighs around 4647 lbs. The X Model has an average weight of 5,421 lbs. Model 3 tips the scale at about 3,552 lbs, and while Tesla hasn't said precisely how much the Cybertruck would weigh at this stage, we can't assume the Cybertruck will be any different.
So with that in mind, let's make a couple of assumptions; firstly, the Cybertruck will probably have a more extensive and heavier battery than the current Model X's 100 kWh than if we assume the Cybertruck Tri-motor AWD curb weight is at around 6,500 lbs. 
Then we believe that the payload Tesla announced of approximately 3,500 lbs is correct; we expect the Cybertruck to have a GVWR somewhere north of 8,501 pounds. This means it would be classified in the U.S. as a Class 2B -3 medium-duty vehicle.
If it turns out this way, not only would it not be required to be rated by the EPA for fuel efficiency, but it would also not be required to be equipped with airbags. Although, it still must be body structure crush strength and meet seat belt regulations.
Would The Day Come When The Cybertruck Is Street Legal In Europe?
You have to think that because of the type of man Elon Musk is, it's unlikely that he and his team won't find a workaround for making sure the Cybertruck is legal and available here in Europe. If for no other reason than the size of the potential market and the number of fans the brand has here. 
As we mentioned at the top of this article, the fact that the production of the Cybertruck is going to be delayed. It may be a blessing in disguise both for Tesla, the company, and potential buyers of this massive Meccano inspired boy toy.