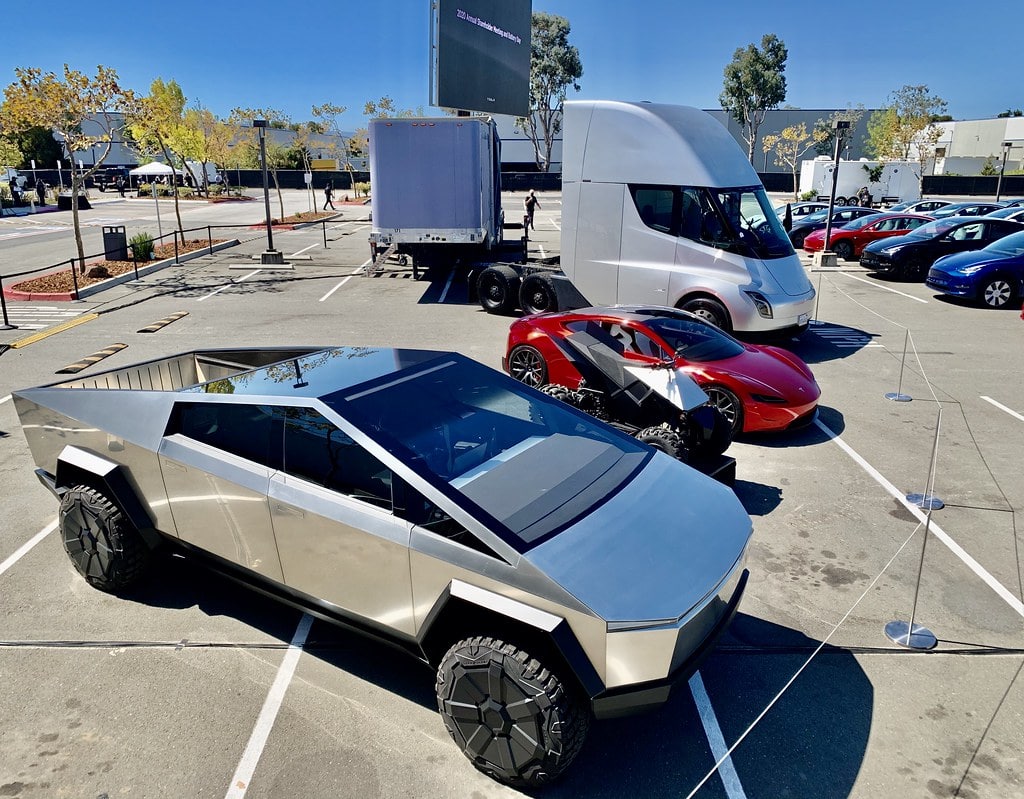 Photo by Dale Cruse licensed under CC BY 2.0. Rechargd.com is reader supported. We may collect a share of sales or other compensation from the links on this page. As an Amazon Associate, we earn from qualifying purchases.
I wasn't surprised when I first saw the renders of the futuristic Cybertruck that it didn't have side mirrors – it just fitted with the look. However, it has nonetheless sparked debate online.
We will not be 100% sure if the Tesla Cybertruck will have side mirrors until it goes into production next year. However, the latest information is the Cybertruck will sport side mirrors that can be easily removed by the owner. 
Why Did The Cybertruck Not Have Side Mirrors?
The Cybertruck, which was first unveiled in November 2019, sparked debate about whether or not it would have side mirrors. The confusion may have been due to earlier marketing literature omitting the side mirrors.
Even on the Tesla website, the images show the Cybertruck without side mirrors, so it is easy to see why people thought there would not be side mirrors. 
Some people had speculated that the Cybertruck would not come with mirrors and rather use the cameras located above the wheel instead.
Tesla's Autopilot uses eight cameras, 12 ultrasonic sensors, and forward radar to navigate the lane lines and detect nearby vehicles so the thought of extending the use of cameras to take on side mirror capabilities is not totally outlandish. 
Did The Prototype Models Have Side Mirrors?
While the official renders of the Tesla Cybertruck did not show side mirrors, a prototype model was spotted at the Transportation Research Center in California. The footage shared by Jesse Sandoval showed the vehicle was exhibiting side mirrors.
Much chattering on forums and social media commenced with some fans expressing their disappointment at the sight of the side mirrors thinking they might have been replaced by cameras and monitors.
What Do The Regulations Say About Side Mirrors?
When it comes to the regulations with regard to side mirrors, it is quite clear. Set out in Federal Motor Vehicle Safety Standard 111, which is titled "Rearview Visibility" it states that each passenger car is required to be equipped with rearview mirrors to provide the driver with a view of objects that are to their side or to their side and rear. 
However, in an interview with YouTuber MKBHD, Elon Musk had said that this rule is specifically for manufacturers and not car owners.
While this may be true, one of the considerations of why Tesla opted to have removable side mirrors may have been due to international regulations on side mirrors, which may differ from U.S. standards. 
Why Might Tesla Want To Omit The Side Mirrors?
While we tend to think of side mirrors as usual for helping with visibility, they can have an effect on the drag of a car. From the start, Tesla has made it clear that the Cybertruck will have the utility of a pick-up truck but with the performance of a sports car.
According to Musk, average side mirrors can reduce the range of an electric vehicle driving on a highway by 5%, which is a significant amount. 
Although the final battery range specifications have not been released yet, It is thought the Tesla Cybertruck will have a range of approximately 500 miles.
So, when you bear in mind what difference that would translate to with and without side mirrors, you can see why Tesla has decided on the removable option. 
Is The Cybertruck The Only Tesla Vehicle Not To Have Side Mirrors?
The Tesla Cybertruck is not the only Tesla vehicle to be lacking side mirrors. While the next-generation Roadster stunned people with its specs, it was similarly drawing attention because of a lack of side mirrors.
Back in 2018, Musk hinted that they would find a way to use cameras instead of side mirrors with the next-generation Roadster, which is also due to start production next year. 
Is Removing Side Mirrors A New Idea?
This actually isn't the first time Elon Musk has considered removable side mirrors. Tesla had designed a Model X prototype in 2013 which did not have side mirrors. Instead, the prototype had smaller cameras, and it had been planned that the feeds would be displayed in real-time inside the car.
The reasoning behind this move was to achieve greater aerodynamic performance. 
Musk had met with the road safety authorities to attempt to get approval for the design. It was at this time Musk had said that he believed side mirrors on cars were only required for manufacturers and not for owners.