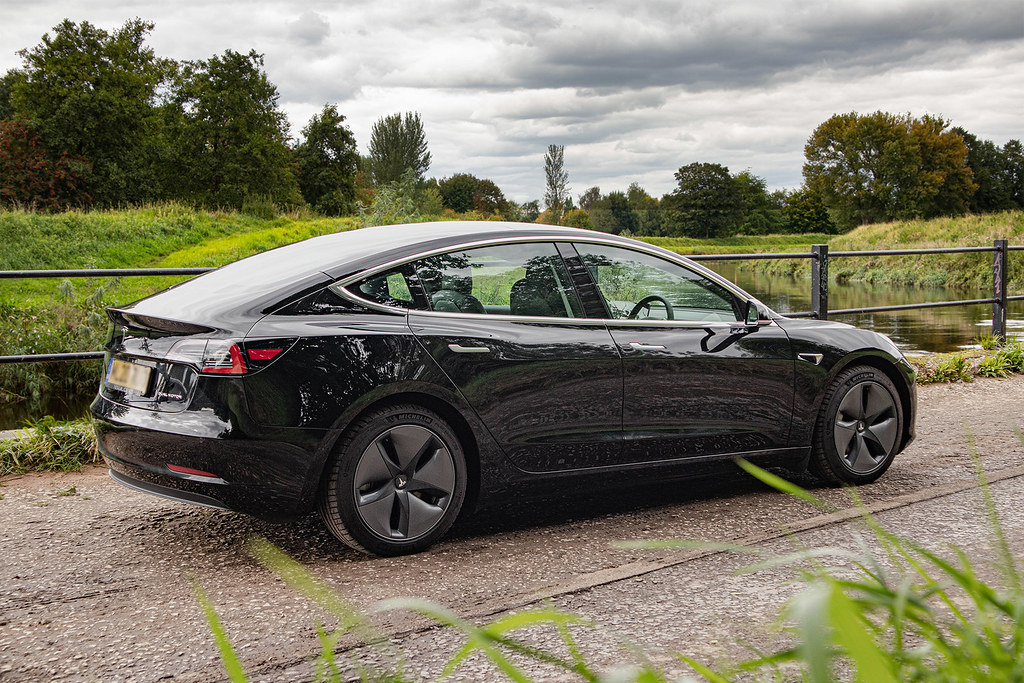 Photo by Insurance 1 at licensed under CC BY-SA 2.0 . Rechargd.com is reader supported. We may collect a share of sales or other compensation from the links on this page. As an Amazon Associate, we earn from qualifying purchases.
Have reports of the longer ranges provided by Teslas pushed you towards wanting to own one? Do you want to know why Teslas provide more range?
Tesla and EV range is perhaps the one major doubt in any potential buyer's mind when considering the move from an ICE to an EV. However, Tesla has worked very hard to overcome the issue of range and allay driver doubts: in fact, it was the range of the 2012 Tesla Model S which sparked the EV revolution of the last decade. Tesla's range is the highest of all EVs.
Range of the 2012 Tesla Model S
The 2012 1st generation Tesla Model S took EVs from being a novelty to being everyday sites on our roads. As well as aesthetic design and performance, the range of the Model S was an advance that allowed a broader range of drivers to shift from ICEs to EVs.
The 2012 Model S with the smallest battery pack of 60 kWh had an estimated range of 208 miles (335 km). By 2016, the 1st generation Model S was available with a 90 kWh battery pack providing a range increase of 62 miles (99 km) or 30 %.
Today, the lowest spec 2nd Generation Model S comes with a 70 kWh battery pack providing a range of 234 miles (376 km) and a top-spec of 315 miles (507 km) from a 100 kWh battery pack.
How Did Tesla Achieve These Ranges First?
EV range is primarily a function of battery pack size. Other supporting factors are electrical motor power rating, drive wheel configuration (FWD, RWD, AWD), car aerodynamics (drag co-efficient), tire design, recovery of waste energy at the brakes, and efficiency of ancillary car functions such as electric windows, heating, and headlights.
Until 2012, Tesla's only commercial EV competition were small city cars such as the Mitsubishi i-MiEV in Japan (and marketed as Peugeot and Citroen equivalents in Europe) and the Nissan Leaf.
These were small cars, with suitably-sized smaller battery packs. The battery pack sizes of these two city cars were 16 kWh and 24 kWh respectively providing ranges of 62-109 miles (100-175 km).
Understandably, buyers were worried about running out of range at the side of the road. It was a major stumbling block to sales. Companies such as Volvo and Ford were trialing the production of EVs (with Volvo's all-electric C30 and Ford's Focus Electric).
These provided ranges of 76-122 miles (93-150 km) from battery packs of 24-25 kWh and were only available to enterprise customers or in specific locations. So by mid-2012, there was still a gap in the market for commercial long-range Sedan EVs.
Tesla made a leap in EV development by launching a commercial EV sedan whose glider (the car chassis and body) was an original design and not from an ICE. The efforts to produce a commercial EV Sedan by existing motor companies had all taken gliders from their fleets of ICE designs.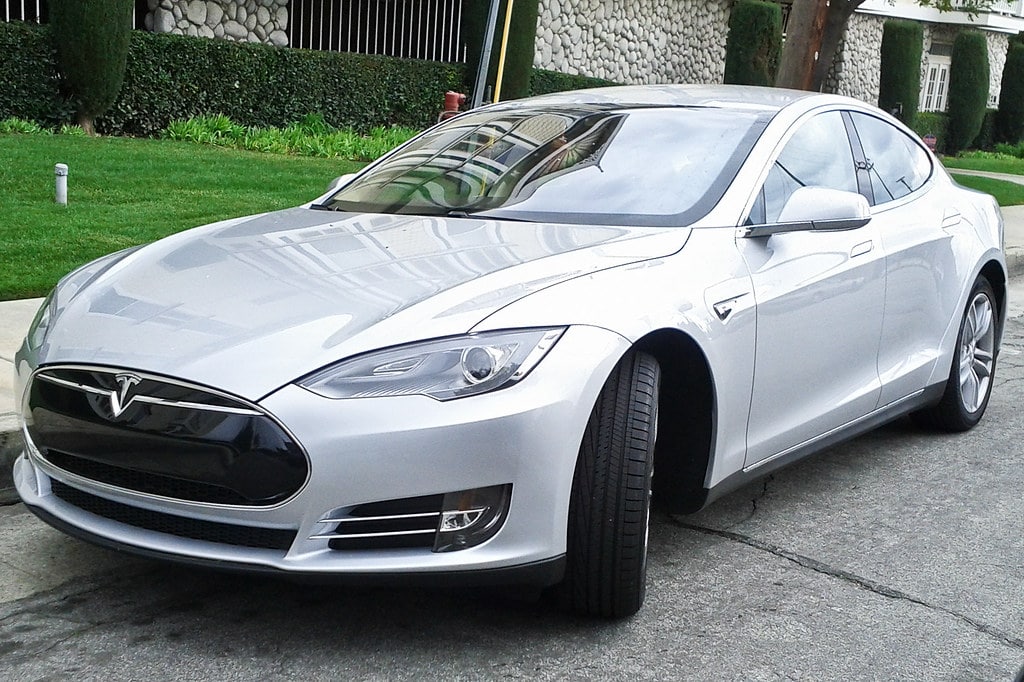 Tesla designed the Model S from scratch and was, therefore, free to design the car for the needs of an EV drive train and not an ICE. Tesla placed the battery pack along the floor of the vehicle rather than sitting in the boot or where the fuel tank would sit in an EV.
By positioning a long, flat battery along the floor of the car rather than a box-shaped battery sitting in the car the Model S was able to house a much larger battery pack. As a result, the Model S had a range double that of anything being produced by Volvo or Ford.
Other Tesla Model Ranges
Tesla has used this flat under-floor battery design in all of their vehicles except the Roadster where the battery pack is positioned behind the seats.
It is this under-floor battery position that has enabled Tesla to provide longer ranges in their vehicles. The under-floor battery also provides a lower center of gravity and therefore better handling.
In the 2015 Model X, the range from 75 kWh was 205.1 miles (330.1 km). With the 100 kWh battery packs, this increased range to 249.8-289 miles (402-465 km).
The highest range comes with the 90 kWh Model X with a range of 292 miles (469.9 km). This is due to the larger electrical motors in the 100kWh battery pack Model X.
The 2017 1st Generation Model 3 comes with battery pack sizes of 50-75 kWh and different drive-wheel configurations (RWD, AWD). The smaller electric motor powers in the Model 3 provide the longest ranges of all Teslas at 220-325 miles (354.1-518 km).
These are the largest ranges except for the as-yet-to-be-released 250 kWh Cyber Truck. The Model Y has the lowest range of all Teslas at 186 miles (299.3 km) from a 60 kWh battery pack.
---
| Tesla Model | Battery size | Drive wheels | Range in miles | Range in km |
| --- | --- | --- | --- | --- |
| Model 3 | 50 kWh | RWD | 220 | 354.1 |
|   | 54 kWh | RWD | 249.8 | 402 |
|   | 62 kWh | RWD | 264.1 | 425 |
|   | 75 kWh | RWD | 321.9-325 | 518-523 |
|   | 75 kWh | AWD | 321.9 | 518 |
| Model X | 75 kWh | AWD | 205.1 | 330.1 |
|   | 90 kWh | AWD | 279-292 | 450-469.9 |
|   | 100 kWh | AWD | 249.8-289 | 402-465 |
| Model Y | 60 kWh | AWD | 186 | 299.3 |
| Cyber Truck | 200 kWh | RWD Single-motor | 250 | 402.3 |
|   | 200 kWh | AWD Dual-Motor | 300 | 482.2 |
|   | 250 kWh | AWD Tri-motor | 500 | 804.7 |
| | | | | |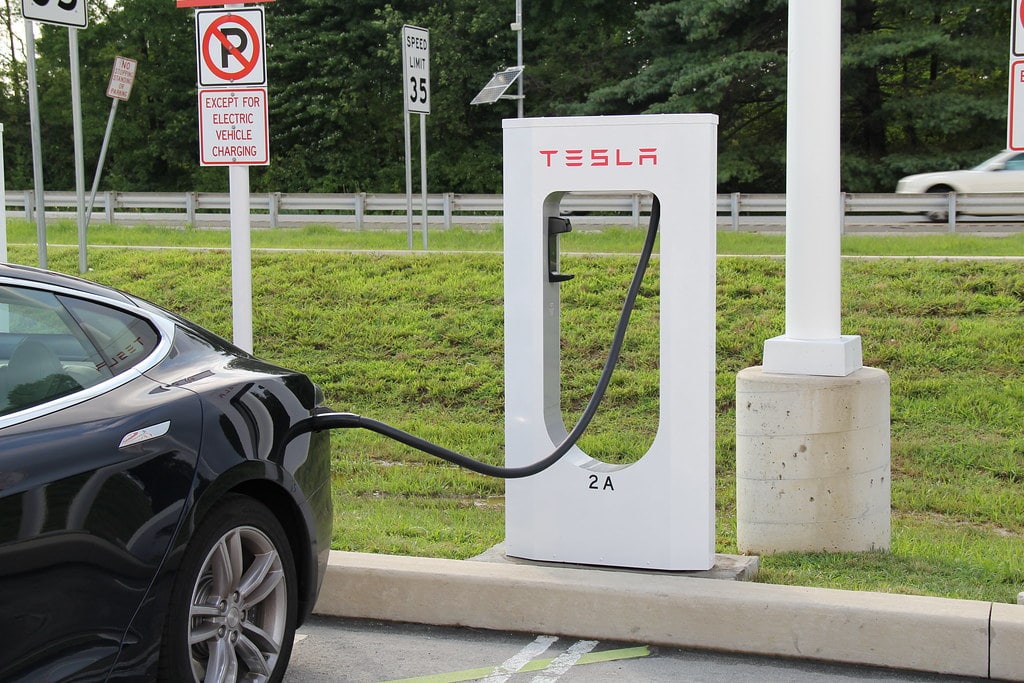 The Competition
Looking at the battery sizes and ranges of other Sedan and SUV EVs in production today, it is clear to see why Tesla's design advantages enable it to provide higher ranges. Only the Chevrolet bolt and Kia e-Soul are able to offer ranges similar to those of Tesla (238-259 miles and 93-243 miles respectively.
---
| SUVs | Battery size | Drive & Class | Range in miles | Range in km |
| --- | --- | --- | --- | --- |
| Kia e-Soul | 31-38 kWh | AWD SUV | 93-243 | 150-391 |
| Toyota Rav4 EV | 41.8 kWh | AWD SUV | 103 | 166 |
| BMW Zinoro 1E |   | SUV | 93 | 150 |
---
| SEDAN / HATCHBACK | Battery size | Drive & Class | Range in miles | Range in km |
| --- | --- | --- | --- | --- |
| Chevrolet Bolt | 60-66 kWh | FWD Hatchback | 238-259 | 383-417 |
| Renault Fluence | 22 kWh | FWD Sedan | 115-145 | 145-233 |
| Mercedes-Benz BlueZERO | 36 kWh | FWD Hatchback | 124 | 200 |
---
| MINIS | Battery size | Drive & Class | Range in miles | Range in km |
| --- | --- | --- | --- | --- |
| Renault Zoe | 22-52 kWh | FWD mini | 130-245 | 210-395 |
| BMW i3 | 22-42 kWh | RWD mini | 81-150 | 130-241 |
| Chery EQ1 | 31-38 kWh | FWD mini | 124+ | 200+ |